Detailed Instructions
University students, faculty and staff may submit their picture to be used on their own ID Card. In order to have your ID Card card ready for you upon your arrival, please submit a color snapshot showing a full front view of your head and shoulders according to the requirements shown on this site.
By submitting this photo for your University ID you agree this photo may be used by St Joseph's University. Please contact the Office of Student Involvement, Leadership, and Intercultural Engagement if you have questions about this policy by emailing studentlife@sjny.edu.
To begin, click on the "Get Started Now!" button on the home page.
STEP ONE: Take Your Photo


Refer to the above example for acceptable photos.
DO'S AND DON'TS
DO:
✓ Submit a color photo
✓ Center your face
✓ Use a neutral facial expression
DON'T:
✗ Wear a hat or sunglasses
✗ Have any objects with you
✗ Submit a photo older than six months
HELPFUL TIPS
As a general rule of thumb, your photo should be as professional as possible
If eyeglasses contain glare, the photo may be rejected
SAMPLE DIAGRAM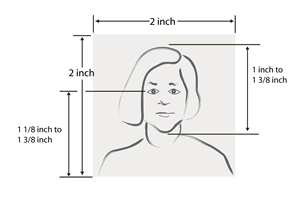 STEP TWO: Upload Your Photo
REMINDER
Only passport-style photos will be approved. If your photo does not meet any of the listed requirements, it will be denied.
STEP THREE: Edit Your Photo
If needed, you may use the tools to crop, rotate, and resize the submitted photo.
STEP FOUR: Preview Your Photo
Does it match? Compare your photo to the sample card photo shown in the preview.
Click the box to confirm.
STEP FIVE: Good Job! You are done!
Thank you for your submission! All required documents have been successfully uploaded to our database.

Your confirmation number is XXXXX.
Thank you for submitting the St Joseph's University ID Card Photo Upload Site.
Your photo has been successfully uploaded to our database.
Your Student ID number shown is the tracking number to track the status of your photo.